4.5 stars rounded up
First take a look at this cover! *dreamy sigh*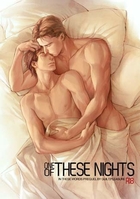 Fucking beautiful!
Katsu surprises David for birthday. Very hot, very loving mixed with a little bit humor.
- David, naked on the bed with Katsu, to his colleagues on the other side of the door: "If you guys really want to do me a favor, ask the LT to give me another day off! There's a Golden Girls marathon running tomorrow."
- Colleague #1: "Did he say Golden Girls?"
- Colleague #2: "New York Cops are really weird."
But what touched me most was the Post Scipt. It made me eager to know, what will happen to drive these two apart even more!
**************************************************Books and reviews in the "In These Words" universe:
ITW Prequels
#1
New York Minute ~
My Review
#3
One of these Nights ~ Review coming soon
#2
In These Words: Chapter 2 ~ Review coming soon